For the fifth year, Forsyth County has been ranked healthiest county in Georgia.
The ranking was done by the County Health Rankings, a study conducted annually by the Robert Wood Johnson Foundation and the University of Wisconsin Population Health Institute. Of factors used in the study, Forsyth ranked first in length of life, quality of life and health behaviors.
"It's exciting to think that we're continuing to lead the state in health rankings," said Lynn Jackson, administrator of Northside Hospital-Forsyth. "We don't want to get too far ahead of ourselves and think we don't still have needs, but it definitely shows that we're continuing to lead the state."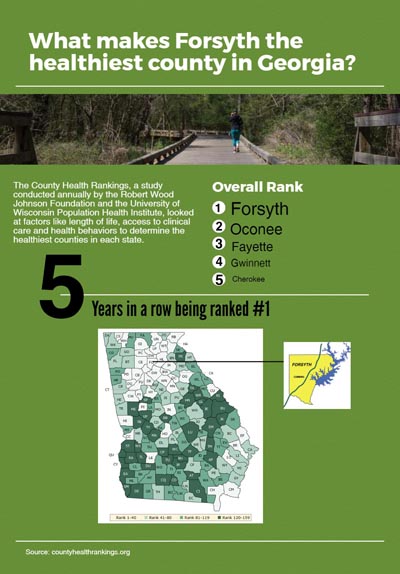 Jackson said the entire community is involved in the ranking, from healthcare to local government to nonprofits.
"I think it all works together along that continuum to help to have places where the community can kind of plug in where they need to and receive the kind of services that are appropriate to them and their particular health and wellness needs," she said.
While Jackson and others could have been content with the ranking in previous years, she said there is a culture of constantly working to improve health in the community.
"We already had a pretty good parks and rec system, for instance, but we're continuing to build onto the greenway more," Jackson said. "We're not sitting back and saying, 'well, done.' We seem to have a never-ending appetite around continuing to be better and what can we do more of.
"Everywhere I look, people are continuing to raise the bar so that we're not just sitting back and saying, 'we're number one, good for us.'"
Rounding out the top five were Oconee, Fayette, Gwinnett and Cherokee counties. For Forsyth's other neighbors: Dawson ranked 18th, Fulton was 24th and Hall was 25th .
Before beginning the current streak, Forsyth was ranked third in 2011 and second in 2012.
The ranking is divided into health outcomes, which Forsyth ranked first, and health factors, which the county ranked third.
"It's just another thing for us to brag about. We do a lot of things right and have fantastic park systems and a community that really cares about their health," Commission Chairman Todd Levent said. "I think that we live in an environment of people who are highly educated and they care about their diets, they care about their exercise."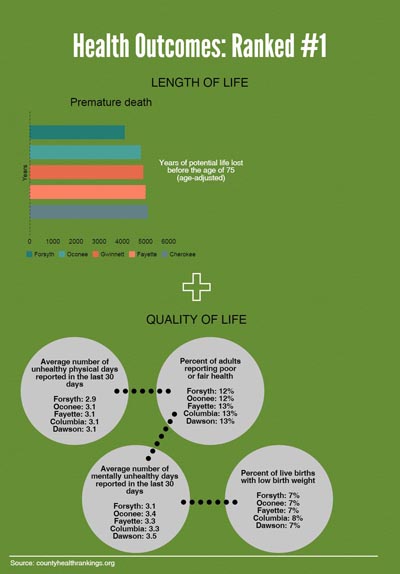 Health outcomes looked at length and quality of life. Length of life was calculated by the number of years lost due to dying before age 75 per 1,000 residents. Forsyth had 4,100 years of premature death, compared to the averages of nation's top performers, 5,200, and state, 7,300.
Quality of life looked at poor or fair health, poor physical health days, poor mental health days and low birthweight.
Health factors was broken down into categories for health behaviors, clinical care, social and economic factors and physical environment.
Forsyth ranked first in health behaviors and second for social and economic factors.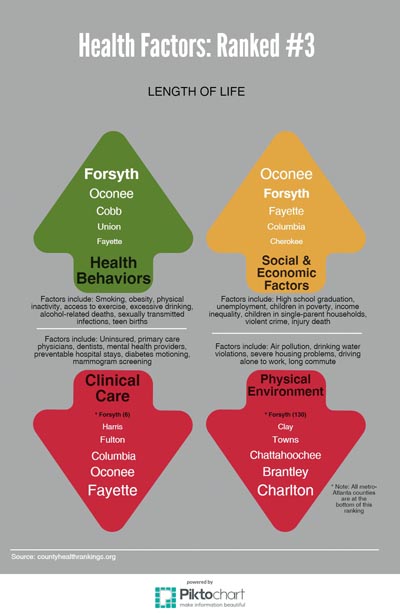 In those categories Forsyth ranked higher than the top performers and the state average for: adult smoking rates, healthy food availability, newly diagnosed sexually transmitted diseases, teen births, percent of residents with some college, children in poverty, children in single-parent homes and injury deaths.
The county's lowest marks, along with much of metro-Atlanta, came from physical environment, which looked at factors such as long commutes, drinking water violations, air pollution, severe housing problems and driving alone to work. Forsyth ranked 130 out of Georgia's 159 counties.
"I think that's a never-ending battle to find out how we can be a healthier community," Jackson said. "We still have several health risks; we still have a number of babies born to teenage mothers. We still have a good bit more of drug use and mental illness than we would like to have."
The study found 50 percent of drivers travel alone on long commutes, up from the national and state averages of 15 percent and 39 percent.